Ultra Low Headroom Combined Chain Block and Trolley
Geared ultra low headroom combination unit.
The beam width is customised to customer requirements.
Main Features
Ultra low headroom
Range from 1.0t to 12.0t
Ideal for locations where headroom is limited
Operating temperature of -40°C to +80°C (temperature range of -60°C to +80°C available as an option)
Can be chained to any height of lift to meet your exact requirements
Chain carrier available
Corrosion or spark resistant versions available
Powder coated universal wheels suit both tapered and flat flange beams
These units meet and exceed all the requirements within BS EN 13157: 2004+A1:2009 and AS1418.2.
Details
Certification
Each unit comes fully certified with a test certificate or an EC Declaration of Conformity stating compliance with the essential health and safety requirements of the Machinery Directive 2006/42/EC.
In the table, the beam width D is customised to customer requirements. Please contact us for more information. F is the maximum beam flange thickness.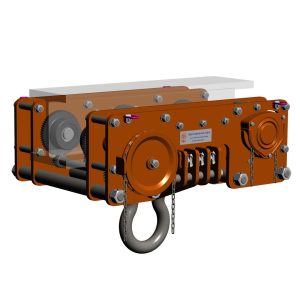 Bespoke designs available on request – an example of a recent 30t ultra low headroom design with load shackle is shown above.
Contact us for more information.
Due to our policy of continual product development, dimensions, weights and specifications may change without prior notice. Please check with your Tiger sales team when ordering.
Data Tables
Product Code
Capacity (tonne)
D-Track width
Dimensions (mm)
Min. Curve Radius (m)
Net Weight (kg) @ std. HOL
Range 1/ Range 2
Load Chain
Technical Drawing
Range 1
(mm)
Range 2
(mm)
A
B
C
E
F
G
H
Diameter (mm)
No. of falls
ULHCG-0100
1.0
62-180
180-310
585
168
161
365
26
240
141
3.5
69/74
6.3
2
ULHCG-0200
2.0
74-180
180-310
680
168
161
420
31
270
167
5.0
106/114
6.3
2
ULHCG-0300
3.0
80-180
180-310
798
184
175
484
36
300
191
7.0
146/159
7.1
2
ULHCG-0600
6.0
96-180
180-310
938
205
205
579
41
400
241
11.0
259/275
10
2
ULHCG-0800
8.0
145-310
–
1028
203
230
644
48
360
265
12.0
388
8
4
ULHCG-1200
12.0
145-310
–
1128
230
230
690
45
420
295
18.0
522
10
4