The ethos of the Tiger Brand is built around quality, integrity and forging long term, focussed partnerships with our customers and clients. We listen, we innovate and we provide solutions that ensure you can deliver all the time, every time. Next time you're looking for a partner to work with to meet your specific requirements, talk to us. It's one of the things we do best.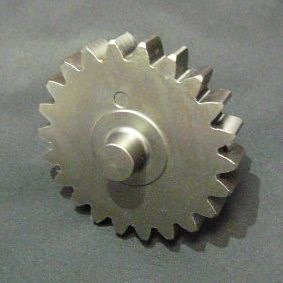 Innovation
Here at Tiger we take great pride in our innovative and client driven engineering background. With over 50 years of professional manufacturing experience, Tiger's commitment to innovation and customer satisfaction mean we will continue to develop our products – and ultimately solutions – for what can be complex scenarios, by communicating and working closely with our customers.
There are many examples of our innovation, improvements and response to client requirements. For example, all gear boxes for Tiger lever hoists have one piece construction pinion gears.
This revolutionary process in gear manufacturing uses drop-forged raw material, precision machined and heat treated with precise ratios between teeth and body providing a more robust and durable design.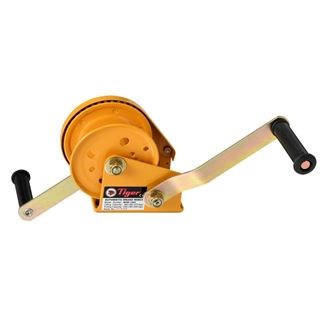 Innovation
The original Brake Hand Winch design was developed by Tiger over 40 years ago. It has certainly stood the test of time, but has also been the focus of recent new development. There is now a dual handle pinion shaft option available on all BHW Brake Hand Winch models, allowing a handle to be fitted on both sides. This has been designed, following customer feedback, for areas with difficult access or situations when the conventional right handed winch handle isn't suitable.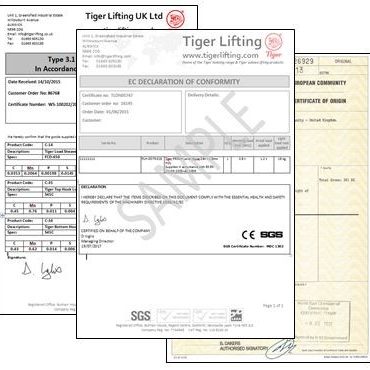 Product Documentation
Our products are provided with all relevant documentation, for example an EC Declaration of Conformity confirming the tested status of the product.
We can also supply Type 3.1 Inspection Certificates In Accordance With BS EN 10204:2004 (E) (Material certificates) if required.
Certificates of Origin attested by our Chamber of Commerce can be supplied for export orders, along with other relevant export documentation.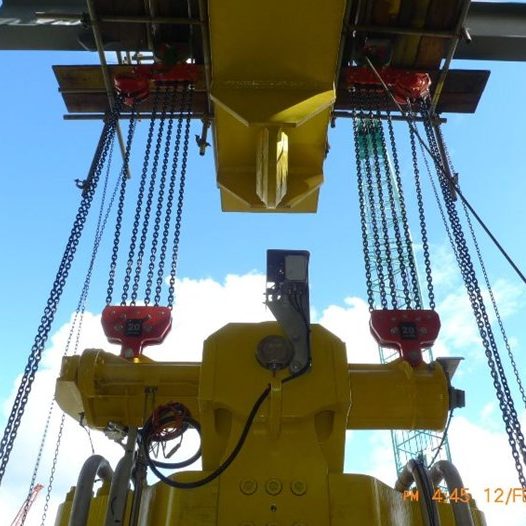 Bespoke Project Work
Working closely with SapuraAcergy on the Gumusut-Kakap Floating Production System (FPS) Installation project, we were asked to help solve a 20t jack up installation where standard rigging could not accommodate the lift. We designed and developed one off 20t chain blocks which were first project tested using the 3D drawings we provided, followed by FAT tests and then successful on site installation. This semi submersible floating production system (semi-FPS) for Malaysia's Gumusut-Kakap deepwater field has been successfully delivered and is in the process of being installed at the site and mooring was successfully completed on June 24 2013. Once installed, it will be the largest offshore operating facility not only in Malaysia but in Asia.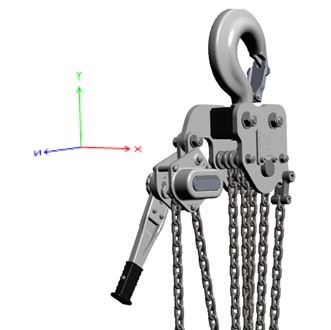 3D Product Drawings
We can provide 2D and 3D drawings of our products in various formats, such as 3D PDFs or SolidWorks files.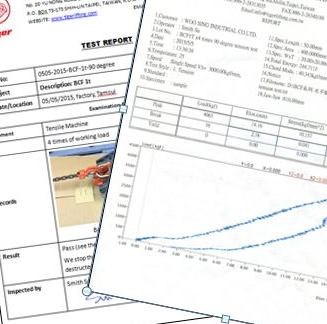 Product Support
We hold complete technical files for our products to provide full back-up and reassurance on our products' performance and to ensure that advice for our equipment is readily available. We have a wealth of technical expertise and qualified personnel as well as specialised dealers and distributors to provide competent know-how, service and full product support.
User Guides
The guidance that comes with our products is amongst the best in the industry and covers Safety Information, Product Operation, Inspection and Maintenance, Transport, Storage, Decommissioning and Disposal, Manufacturer Testing and Verification, Product Warranty and Warnings, Technical Data, Exploded Diagrams and an Inspection Log. Relevant chain block and lever hoist manuals also include information on using our products for cross hauling, fleeting and drifting applications.