TAH33 Pneumatic Air Hoist 3t – 10t
Tiger industrial air hoists are designed for, and proven in, many industries including mining, shipyards, offshore construction and power stations. They are also used for industrial and general engineering applications such as automotive plants, foundries, and heat treatment plants. The hoists operate at air pressures of between 4 and 6 bar. They comply with the requirements of ASME B30.16 and EN14492-2. Our manufacturing facility is ISO9001 certified.
Main Features
Range – 3.0 tonne to 10.0 tonne
Reliable, fast, efficient, quiet and lightweight
Greater than 5:1 factor of safety
Suitable for Fleeting/Oblique pulling
Certified for ATEX Category 3 – normal safety
Details
Advantages of Air Hoists
Air-powered hoists are ideal for tasks that require rapid lifting speeds and constant use. These hoists are powered by a compressed air feed, making them a great alternative to electric hoists when there are no power sources available. Another key benefit of air hoists is their 100% duty cycle – significantly higher than most electric hoists. For example, an electric chain hoist that has a 25% duty cycle can be operated continuously for a maximum of 15 minutes in a one-hour period. Hoists that are powered by a compressed air feed do not have this limitation; they can remain in constant use until the job is done.
Temperature Range
Ambient temperature range -20°C to +70°C (for temperatures outside of this range please contact us for details).
Load Limiter
Integral differential pressure load limiting valve automatically prevents the operator lifting a load of more than 125% of the working load limit. Load limiter is 100% repeatable at all working pressures and does not wear or generate damaging heat.
Emergency Stop
Pendant control hoists are supplied with a mains emergency stop valve. This shuts off the main air supply to the hoist when activated.
Precise Control
Accurate and precise positioning of loads is standard for both toggle and pendant control models.
Fail Safe Disc Brake
Non-asbestos self-adjusting disc brake is applied automatically when the air supply to the hoist is shut off. The brake is self-adjusting for the life of the brake and can hold more than 125% of the working load limit.
Fleeting, Cross Hauling or Oblique Pulling
This type of application is when the load deviates from the vertical position with a force acting directly between load hook and suspension point. Our air hoists can be used for fleeting and oblique pulling operations with no de-ration of the hoist. Cross hauling can be done with a single hoist, two hoists operated independently or with two hoists operated off one dual hoist pendant control.
Integral Silencer
The exhaust air silencer is built into the hoist gearbox housing and limits the noise level to below 85dB(A).
Load Chain
Grade 8 load chain ensures stringent high-speed duty cycles can be met. The load chain is in accordance with the requirements of EN818-7 Appendix B.
Vane Motor
Assisted vane lifting ensures maximum starting torque when starting under load.
Sealed Gearbox
The sealed planetary gearbox ensures that the most stringent duty cycles can be met. The gears are heat treated and mounted on high strength, low friction bearings.
Ease of Maintenance
The modular design of the hoist allows easy access to internal components such as the motor, gearbox, brake and load limiter. Common parts are used throughout the range.
Optional Chain Carrier
Designed to carry and hold the length of load chain required for the operation, our stainless steel chain bucket is available in different size options. These chain carriers prevent loose chain from getting snagged during lifting or lowering operations and protect any loose chain during transit to and from the operational site.
ATEX
Manufactured in accordance with ATEX Directive 2014/34/EU and Machinery Directive 2006/42/EC and suitable for ATEX Category 3 – normal safety. Our products are assigned as follows: ATEX marking: : Ex II 3 GD c IIB T4 IIIB T135°C. Suitable for gas and dust hazardous areas: Zone 2 (gas) and Zone 22 (dust).
 Ex II 3 GD c IIB T4 IIIB T135°C

Also available for ATEX Category 2 – high safety – please contact us for more information.
Pendant control
Our air hoists are supplied with either aluminium hard anodised controls which offer excellent corrosion protection or our Nickel plated SG iron option (for higher impact resistance combined with greater tensile strength and superior corrosion protection). Twist grip pendants are available as an option. Our new dual control pendant will operate two hoists with one pendant control. We also have a new remote control option available.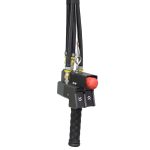 Aluminium Hard Anodised Pendant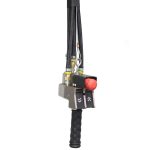 Nickel Plated SG Iron Pendant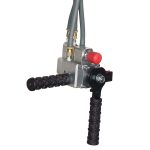 Optional Twist Grip Pendant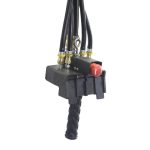 New Dual Hoist Pendant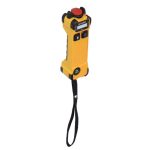 New Remote Control
Weight of TAH33model includes 3m lift, 2m toggle control. For longer lifts add 3.8kg per metre of lift for AH-030, 7.6kg for the AH-060 and 11.4kg for the AH-103 per metre of lift. For pendent control add 0.8kg.
Due to our policy of continual product development, dimensions, weights and specifications may change without prior notice. Please check with your Tiger sales team when ordering.
Data Tables
Product Code
AH-030
AH-060
AH-103
Lifting Capacity (Tonne)
3.0
6.0
10.0
Falls of Chain
1
2
3
Chain Size (mm)
13 x 36
13 x 36
13 x 36
Total Weight (kg)
76.5
99.5
139.5
Full Load Lifting Speed (m/min) @ 6 bar
5.3
2.6
1.6
Full Load Lifting Speed (m/min) @ 4 bar
3.8
1.9
1.1
No Load Lifting Speed (m/min) @ 6 bar
7.5
3.7
2.4
Full Load Lowering Speed (m/min) @ 6 bar
8.3
4.1
2.6
No Load Lowering Speed (m/min) @ 6 bar
6.8
3.4
2.2
Air Consumption (m3/min) @ 6 bar
4.0
4.0
4.0
Air Consumption (m3/min) @ 4 bar
2.6
2.6
2.6
Toggle & Pilot Pendant Control
G ¾
G ¾
G ¾
E/Stop Pilot Pendant Control
G ¾
G ¾
G ¾
Supply Hose (Inside ø) (mm)
25
25
25
Sound Level (dB(A)) Full Load Lifting @ 6 bar
81
81
81
Sound Level (dB(A)) Full Load Lowering @ 6 bar
83
83
83
Dimensions
A
466
466
466
B
254
223
366
C
185
137
243
D
86
123
E
259
315
F (Min)
538
G (Min)
630
786
Technical Drawing